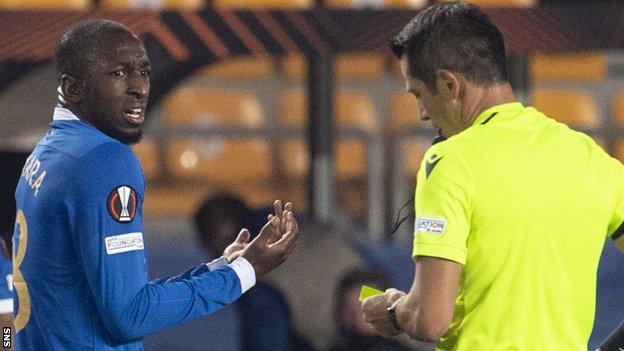 Steven Gerrard is urging stringent penalties to tackle racism after Glen Kamara was booed in Rangers' 1-0 Europa League defeat by Sparta Prague.
The Finn was jeered six months on from being racially abused by Ondrej Kudela of Sparta's rivals Slavia Prague.
However, Sparta released a statement saying "unfounded accusations" of racism are "desperate and ridiculous".
"I've spoken to Glen, he is OK, but our conversation will remain private," said the Ibrox manager.
"Sadly, these things keep raising their head far too often and, unfortunately, the punishments are not severe enough."
Gerrard had initially said he had not heard the jeers at the Letna Stadion.
The match was played in front of 10,000 children and their chaperones after Uefa relented on a stadium closure following racist chanting by Sparta fans towards Monaco's Aurelien Tchouameni.
"I'm fully aware now [of the booing] having watched the game back with audio and I'm actually surprised I wasn't aware of it during the game," explained Gerrard on Friday morning.
He also confirmed that the "wheels are already in motion" with an official complaint to Uefa, adding: "There needs to be more done. That's the only way it's going to be eradicated."
Sparta say they "will proudly defend our children", while asking Rangers to "do their part to stop the xenophobic atmosphere directed towards our children, our beautiful country and its inhabitants".
Reaction & as it happened

10-man Rangers lose at Sparta Prague
Kamara, booked in the first half, was shown a second yellow card for leading with an elbow on Michal Sacek on 74 minutes.
The dismissal arrived with Rangers already trailing to the Czech hosts following David Hancko's first-half header.
"I thought both cards were harsh," said Gerrard after the match. "The first one was just a foul but when you're on a yellow card, you've got to be careful where your arms are because you're always running the risk of giving the referee a decision to make in that situation.
"I thought there was worse happened on the pitch tonight and no cards came out. So we feel a little bit hard done by that Glen's received a red for very little, really."
'There has to be some realism'
Gerrard lamented that it has been "virtually impossible" to find a consistency of selection this season, while pointing out that many Europa League rivals are operating with larger budgets.
Defender Connor Goldson, who missed the loss in Prague has an "outside chance" of returning for Sunday's league meeting with Hibernian, while Juninho Bacuna limped out of the first half.
"We've been short in the two Europa League games," said Gerrard. "But at this level, which is improving year on year, if we want to keep growing and going to the next level we need to spend big money. It's a simple as that.
"In the last two windows we haven't spent a penny, so there has to be some realism.
"We've got really good players and we'll keep improving, that spark will come again. And it will come quicker if we can find a settled team."