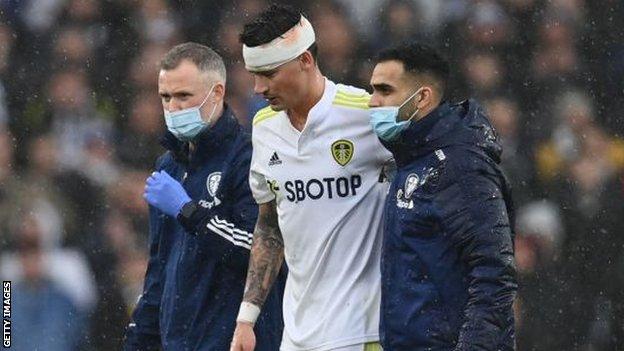 The Professional Footballers' Association says concussion protocols "are failing to prioritise player safety" following the injury sustained by Leeds United's Robin Koch in Sunday's loss to Manchester United.
Koch, 25, suffered a blow to the head in a collision with Scott McTominay.
The German was cleared to continue with his head bandaged before being replaced after 31 minutes because of concussion.
The PFA reiterated its calls for the introduction of temporary substitutes.
"Put simply, the current rules set by Ifab [International Football Association Board] are not working, and players are being put at risk," said the PFA, having initially called for temporary substitutions in April 2021.
It added temporary concussion substitutes would allow medical teams "additional time and an appropriate environment to make an initial assessment", subsequently reducing the pressure for affected players and medical teams "to make quick decisions".
In a statement on Monday, Leeds said the club's medical staff "have always been in favour of temporary substitutions for head injuries".
"Leeds United can confirm that following a clash of heads, Robin Koch passed all of the on-field concussion screening tests that are currently part of the Premier League protocols," the club said.
"The player was told if he developed any symptoms he should sit down on the field of play and would be substituted immediately, which is what Robin did in the 29th minute of the game."
Leeds added that Koch would "follow the concussion protocols before returning to play."
FA investigates after Man Utd forward Anthony Elanga hit by object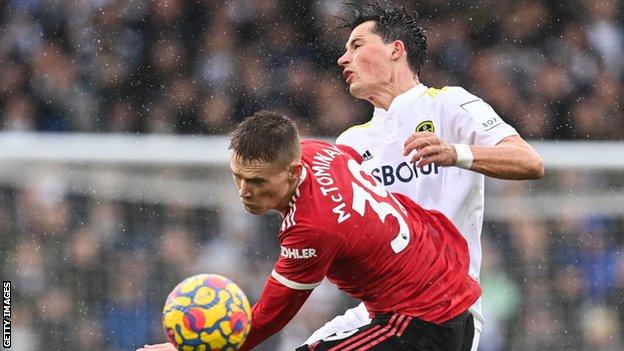 Ifab, football's lawmakers, approved a trial for concussion substitutes in December 2020 which was adopted in the Premier League and FA Cup competitions.
The rule allows for a permanent substitution to be made if a player suffers a head injury – regardless of the number of replacements a team has already used.
Speaking in March 2021, leading head injury expert Dr Willie Stewart said the rules were a "shambles", adding the implementation of temporary substitutes would be a safer option.
The PFA cited incidents last season involving West Ham's Issa Diop and Sheffield United's George Baldock, both of whom were allowed to continue playing following head injuries, when it wrote to Ifab in April.
Leeds manager Marcelo Bielsa said the cut Koch sustained appeared to be more serious than the knock itself.
"He had a cut in his head and what excludes him, or made him come off, is the cut," said Bielsa. "So if the cut is the most significant thing [rather than the knock] then I acted in accordance to that."
"The 'if in doubt, sit them out' protocol is not being applied consistently within the pressurised environment of elite competitive football," the PFA said on Monday.
"We see frequent incidents of players returning to play with a potential brain injury, only to be removed shortly afterwards once symptoms visibly worsen," it added.
"As the representative voice of players in England, we have been clear to Ifab that we want to see the introduction of temporary concussion substitutes."
Brain injury charity Headway has echoed those calls, adding that the situation has left them "completely frustrated" and that "urgent answers" are needed from the Premier League over its interpretation of the 'if in doubt, sit them out' protocol.
"Medics have a tough time when trying to make on-pitch concussion assessments. The game simply has to help them by implementing temporary concussion substitutes," said Luke Griggs, Headway's deputy chief executive.
"It is hard to believe that if they had 10 minutes to assess the player in the quiet confines of the dressing room that they would have come to the conclusion that he was fit to continue.
"The days of [former England captain] Terry Butcher soldiering on with a bloody bandage are gone. We cannot continue with a 'patch them up, get them back out there' approach to head injuries. Players must be protected."

Our coverage of your Premier League club is bigger and better than ever before –

follow your team and sign up for notifications

in the BBC Sport app to make sure you never miss a moment